Yang, left, and Matt Agnew, play a concert at the Stan Mansion. (Photo by Gay Riseborough)
A new not-for-profit is setting out to engage all five senses with its symbiosis of artistic mediums.
"In the Realm of Senses" (ITROS) will use music, visual art, literature, theater, dance gastronomy and olfactory art to stir up personal artistic excitement across many boundaries. It is the concept and creation of violinist Jeff Yang, who owns and operates Chicago Strings, 1642 Orrington Ave.
A music concert held in mid-August offered an immersive experience with unusually arranged but mostly familiar compositions spanning late Baroque, classical, romantic, impressionism, 20th century, and rock n' roll periods. Yang played violin and Matt Agnew played cello.
The venue was the elegant gold and white grand ballroom of the Stan Mansion, a former Masonic Temple at 2408 N. Kedzie in Chicago.
In this stunning old mansion, the two passionate musicians played Vivaldi's "Summer" as the very architecture seemed to change color around you, garlands and tumbling bouquets of richly colored flowers moved across the walls and hints of perfume wafted through the air.
"The genius in the arrangements was reducing orchestrations down to just two players, beautifully presented and performed by Jeff Yang and Matt Agnew, top musicians in Chicago," says June Matayoshi, also a professional musician in the City, co-chair of the Board of ITROS and on staff at the Irving Harris Foundation.
Animated projections of visual art, appropriate to the music of the moment, floated across the large stage wall facing the audience. Many were abstract but the most interesting images were marching figures and flags taken from Soviet anti-Nazi propaganda posters. These accompanied the final duet, the Beatles' "Back in the USSR."
The visual projections were done by Liviu Pasare of Stoptime, Chicago. The three scent "sculptures" by Ugo Charron were created "to" and "for" the music of Mozart's Symphony No. 25, Ravel's "Duo for Violin and Cello" and the Beatles' "And I Love Her."
Yang has degrees in both music and industrial engineering, always striving to bring the arts and sciences together in new ways. He was a member of Mannheim Steamroller and Corky Siegel's Chamber Blues bands for more than 10 years. He has also served as concertmaster of the New Millennium Orchestra in Chicago, the Emerald City Orchestra in Seattle, the Spoleto Festival in Italy and the National Repertory Orchestra in Colorado.
Yang has appeared in numerous PBS Sound Stage recordings with artists such as Jewel, Faith Hill, Peter Cetera, Dennis DeYoung, Lyle Lovett and has performed live with Stevie Wonder, Bruce Springsteen, Bernadette Peters and others. Currently a member of the Chicago Philharmonic and the Skokie Valley Symphony, Yang also plays with the Grant Park Symphony and various ensembles throughout Chicago.
"Jeff has connections to a wealth of other talented artists in all genres, from around the world," Matayoshi said. "His vision is to offer new and innovative performances and installations in various venues and with various combinations of artist and senses."
Participating artists represent talented and evocative creators. Their mediums include visual art, music, dance, theater, poetry, culinary arts, scent design and architecture. As the work of the contributing artists intertwines, they are challenged to diverge from their usual methods of creating and to produce newly inspired works, in some cases, perhaps even masterpieces.
There have been three years of ITROS events since 2019. Their "flagship" show was held at the Ukranian Institute of Modern Art in Chicago, where Mussorsky's 15-movement "Pictures at an Exhibition" was rearranged and performed. "It was written originally for piano, then orchestrated by Ravel," Yang said. "But it devolved," he laughs, "into a work for violin, viola, cello, and four baroque recorders – I played them all!"
Fifteen lithographs were projected and animated for the event at the Museum, while food items created by different chefs were offered. Two original scents were created for the evening, one to pair with "The Great Gates of Kiev" section of "Pictures," and one to cover the entire musical work.
Also in 2019, an early celebration of Beethoven's 250th birthday paired the middle period of the composer's music with a six-course meal at Band of Bohemia, a now-shuttered Michelin 5-star restaurant in Rogers Park.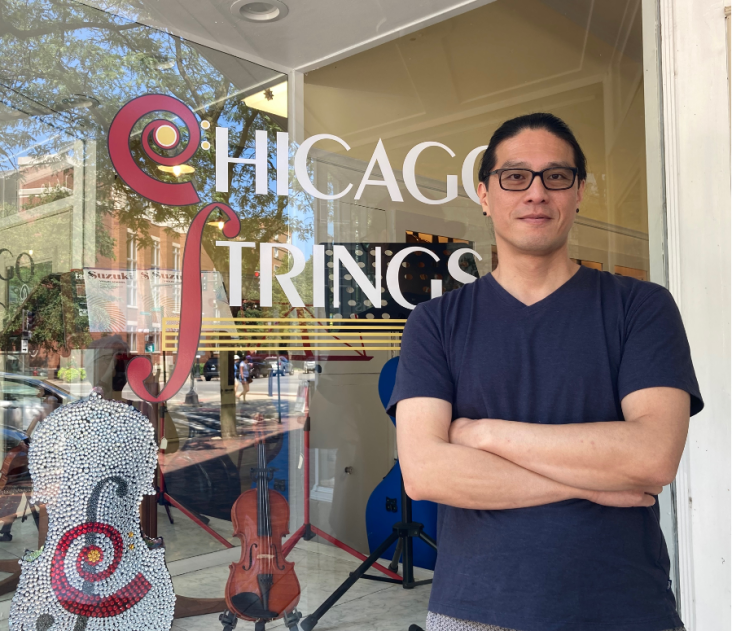 A Scottish program was held at the Fulton St. Collective in 2021. Featured was the tasting of 11 Scotch whiskies from all the regions and islands of Scotland, each paired with unique scents and music. An exploration of how colors can influence one's taste was included that evening.
Other venues have been the also-shuttered Mayne Stage of Rogers Park, Pianoforte in the South Loop, the Chopin Theater in Wicker Park and the City Winery on West Randolph Street in downtown Chicago.
The next program, ITROS's first in Evanston, will take place at 8 p.m. Saturday, Sept. 25 at Fountain Square. At that event, there will be a repeat musical performance of "Bach to the USSR" with projections on the Fountain Square Building this time. Yang is hoping for scents too. This event will be free to all.
A larger Evanston event, a continuation of the celebration of Beethoven's 250th birthday, had to be postponed last year due to the pandemic but has been rescheduled for Friday, Oct. 29, 2021, at the Evanston Art Center, 1717 Central St. The theme will be "Beethoven and Art."
A string quartet will play and then improvise Beethoven's "Opus 59 No. 2" as visual artist Sergio Gomez creates, before the audience, a painting based on the improvisational music. Dramatic floral art, "Strings Attached" by famed floral artist Stacey Bal, will be part of the installation. Ugo Charron will provide the fragrance, called, simply, "Beethoven."
Tickets for the Evanston Art Center event will be available on the website:
https://www.intherealmofsenses.com/events
Source: Musician creates unique concert experiences that involve sight and smell – Evanston RoundTable