César Giron, CEO of Pernod Ricard, attends Taste Encounters with Laurent Fresnet
Champagne Mumm has devised a new sensory tasting experience, designing two new glasses that play with sight and touch to create a, "finer, more discerning reading of each wine and its more delicate aromas".
Cellar master Laurent Fresnet worked with neuroscientist Gabriel Lepousez and designer Octave de Gaulle to create two new glasses that would influence the taster's perception of the Champagne they held.
Lepousez has devoted 15 years to studying perceptions of taste and aroma in wine, while de Gaulle previously worked with the house to create a Champagne that could be drunk in zero gravity – the 'Grand Cordon stellar' bottle.
Although similar experiments and glasses for them have been designed before, focusing primarily on sensory deprivation usually by using a black glass to hide the colour of the wine, this experiment added further elements by playing with the weight and texture of the glasses as well.
The house said in a statement: "During a tasting, the brain receives a multitude of signals triggered by the senses, the most important of which are sight and touch. These signals have an impact on our sense of taste and consequently, our appreciation of a wine.
"When one or more traditional sensory cues are altered, our automatic habits are challenged, leading to a more spontaneous tasting experience. More aromas and flavours come to the fore, opening up new perspectives that go beyond the wine's intrinsic qualities."
De Gaulle designed two glasses, therefore, the first being smooth and glossy to the touch but also heavier than a standard glass, with a weighed stem and base – it was also deep purple in colour.
The second glass was frosted on the outside, giving it an icy appearance and a grainy sensation when drinking from it.
Fresnet and a group of tasters then tried three of Mumm's main Pinot Noir-focused cuvées; Grand Cordon Rosé,  Brut Millèsime 2013 and RSVR Blanc de Noirs 2009 – from a standard Champagne glass and then the new designs.
The rosé from the heavier glass was noted as having much deeper notes of red fruit and cherries and pastry than in the standard glass, where the wine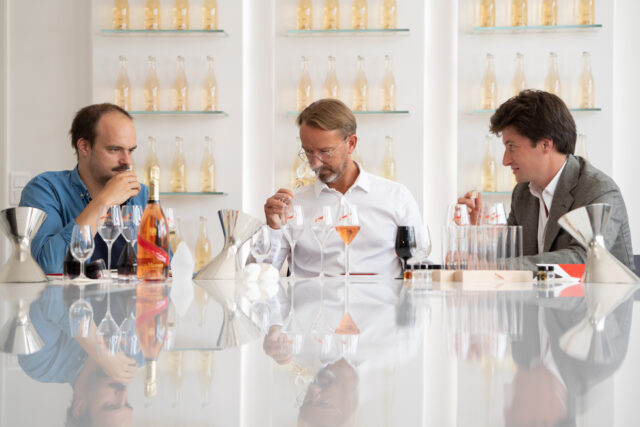 appeared lighter and fresher.
The 2013 vintage from the frosted glass by contrast was thought to be lighter and more delicate than when served in the standard glass.
And finally the Blanc de Noirs 2009 from the frosted glass was thought to be fresher, "with aromas of citrus and candied peach," then when served in the standard glass where the profile was denser and more structured.
Fresnet said: "Mason Mumm's philosophy has always been grounded in doing things a little differently. Champagne is a wine that is both alive and constantly evolving and I believe this is something we should celebrate by reevaluating how we taste and enjoy it.
"This innovative experiment helps reveal the wealth of nuances that are hidden in Mumm's wines, as well as the remarkable, kaleidoscopic nature of our own, marvelously human responses to Champagne."
Lepousez added: "This tasting experiment has shown us that, while there are dramatic variations in our individual responses to smell down to genetics, we are also powerfully influenced by memory, emotional associations, and many other exterior factors that give us highly individualised and personal responses to Champagne drinking."