A new multi-sensory, kinetic artwork at Te Papa by a Greek-Cypriot Australian was inspired, in part, by the colours of New Zealand.
Nike (pronounced 'Nikki') Savvas already had the idea for the nearly 8-metre high installation, but was stuck on what colours the 210,000 fully recyclable plastic tabs should be.
Visiting the museum, she came across watercolour artworks of native flora by early 20th century New Zealand artist Sarah Featon.
Savvas took the colours of pōhutukawa, kākā beak and forget-me-nots in Featon's work and turned them into Finale: Bouquet, which appears like an explosion of confetti in the entrance space to Toi Art.
The exhibit, which opens on Friday and will run until January 12, 2020, is made up of thousands of colourful tabs suspended mid-flight, creating a festival of colour and movement.
"It's like a huge abstract expressionist painting, a painting in the making, with tens of thousands of brushstrokes.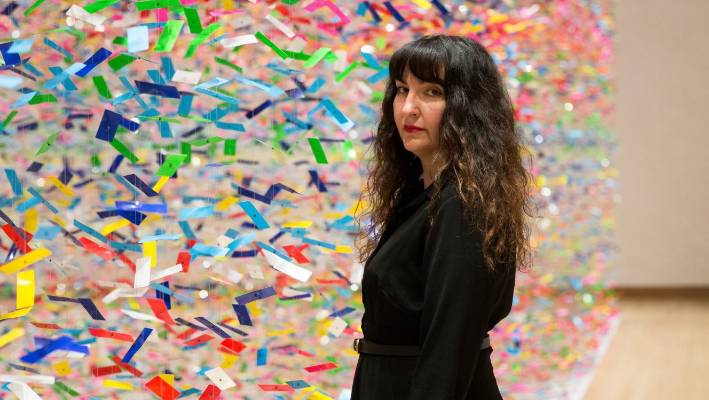 "It is live, and a live experience."
Savvas said there weren't many gallery spaces that would have been able to be home to the work.
"I was really excited at the potential of doing something that big."
Installing the work was no mean feat, however, requiring three weeks and five people to contribute to its construction.
The installation team had practised naming colours in Māori as they went to pass the time.
"And that's fast, by the way," Savvas said.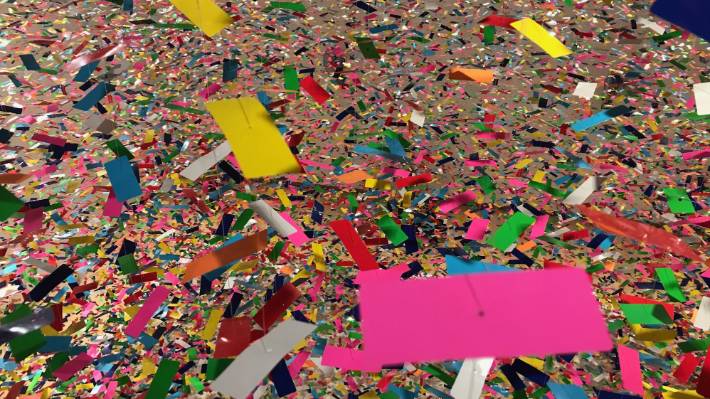 As well as space, the work had been enabled by Te Papa's "calm" and collaborative approach.
"It's art for the people, which is my motto.
"There's no one way to engage with it or understand it."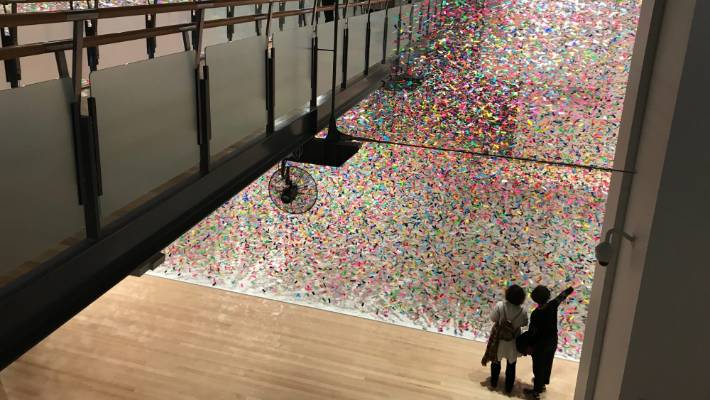 Te Papa head of art Charlotte Davy said Savvas was an exciting artist whose works had been exhibited in institutions such as London's Southbank Centre, The Museum of Contemporary Art in Los Angeles and the Art Gallery of New South Wales in Sydney.
"Savvas' ability to command space is remarkable. Finale: Bouquet is an immersive, colourful and optically dazzling art experience."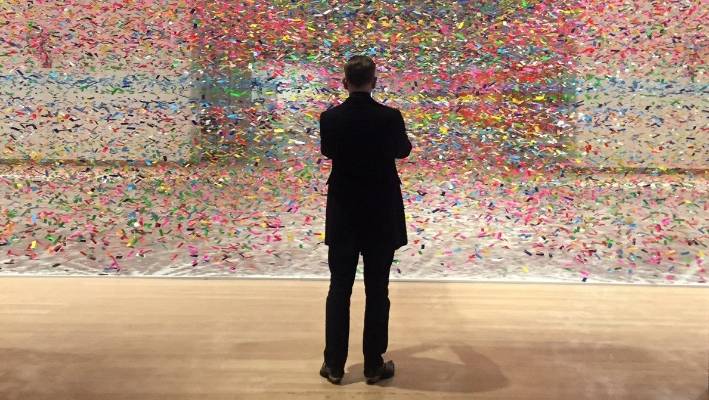 BY THE NUMBERS – Finale: Bouquet
* 7.8 m high
* 18.9 m long
* 8.7 m wide
* 210,000 recyclable plastic tabs
* 6000 strands
* 6 colours
* 68 grams per strand
* 400+ kg – approximate weight
* 816 hours to install
* 6 people to install
* Finale: Bouquet is open on Level 4 of Te Papa. Exhibition entry to Toi Art is free.
Source: Multi-sensory kinetic installation work 'Finale: Bouquet' arrives at Te Papa Toi Art gallery | Stuff.co.nz