Growing at-home dining trends, amid the ongoing coronavirus pandemic, has opened up several avenues for grocery businesses, and leading grocery retailer — The Kroger Co. KR — is no exception to this trend. The company has been proactively responding to consumers' altered shopping and dining practices. In this context, the company has come up with a unique artificial intelligence (AI)-based recipe tool — Chefbot. This new solution seeks to reduce food wastage, while also helping to make cooking an enjoyable experience by offering several recipe options.  Let's dig deeper.
Chefbot to Help Reimagine Cooking Experience
Kroger formulated Chefbot in partnership with 360i — a fully-integrated creative and media agency. Technology partners in developing this new offering are Coffee Labs and Clarifai. This user-friendly conversational solution seeks to break away from mundane cooking routines as well as unwanted food wastages.
For using this solution, consumers are required to tweet pictures of three ingredients from their pantry or refrigerator to @KrogerChefbot. An AI driven approach will then assist Chefbot to identify the ingredients and then scan thousands of recipes on Kroger.com. Within a few seconds, Chefbot responds to the user by sending a range of personalized recipe recommendations. Chefbot's AI is capable of recognizing nearly 2,000 ingredients that helps unlocking 20,000 Kroger recipes.
The launch of Chefbot is part of the company's Fresh for Everyone brand transformation campaign, which was initiated last year. Management believes that Chefbot will help the company meet its commitment for delivering fresh and affordable food related services. The technology will help consumers meet their meal aspirations, especially under the current pandemic-induced circumstances where dining at home is being widely practiced.
Moreover, this innovate recipe tool will help users maximize the usage of ingredients that are available at home, thereby limiting wastages. The company believes that Chefbot's food recognition and recipe search technology will continue to evolve through the inclusion of more learned insights. The technology exemplifies how businesses can make of AI and other advanced technologies to better meet consumer needs amid times of altering consumer shopping and purchasing patterns.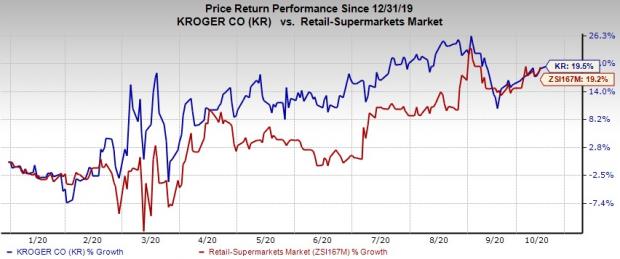 Efforts to Boost Offerings are Encouraging
We note that Kroger is undertaking every effort for maintaining its strong footing in the grocery space. A few days back, the company launched two on-premise ghost kitchens in collaboration with ClusterTruck. The on-premise kitchens were launched across stores in Metro Indianapolis, IN and Metro Columbus, OH. The concept streamlines ordering, preparation and delivery, thus enabling Kroger to efficiently cater to growing customer demand for quick, fresh, restaurant-quality meals.
Additionally, Kroger is benefiting from its acquisitions of meal-kit provider Home Chef, and British online grocery-delivery company Ocado. Also, the company's extended collaboration with GoodRx Holdings, Inc. enables consumers to continue using Kroger Rx Savings Club program for availing discounts while buying prescription drugs. Moreover, the Restock Kroger program, involving investments in omni-channel platform, identifying margin-rich alternative profit streams, merchandise optimization and lowering of expenses have been gaining traction. Notably, the company is expanding contact-free payment solutions like Scan and Kroger Pay. It has also been striving to boost delivery services for meeting the rising demand for convenient and contactless pickups.
We expect Kroger to continue gaining from these well-chalked strategic measures.  A glimpse of this Zacks Rank #2 (Buy) company's price performance so far this year reveals that it has increased 19.5%, almost in line with the industry's 19.2% rally.
Source: Kroger's AI Recipe Tool Chefbot to Add Zeal to at Home Dining | Nasdaq