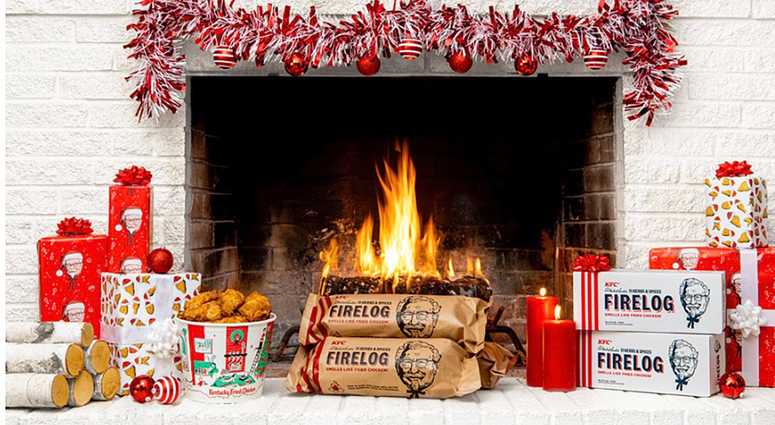 If you can't trim your Christmas tree without the scent of the colonel's 11 herbs and spices, but you don't want to run out for some fried chicken… you're in luck.
You can now get Kentucky Fried Chicken fire logs to burn in your fireplace.
The fried chicken giant says the logs smell like a "warm fried chicken-scented fire." Perhaps you could pair them with Dunkin' Donuts' peppermint-scented wallpaper.
The logs are part of a joint venture between Kentucky Fried Chicken and firewood producer Enviro-Log.
A limited run was available last year but sold out in three hours, so they've ramped up production this year.
KFC's chief marketing officer in the United States, Andrea Zahumensky, told the New York Times that the company has been receiving "weekly calls from hopeful fans" who are desperate for the fried chicken logs' return.
"We hope you'll cuddle up with your family or friends with a bucket of our world-famous fried chicken and a warm fried chicken-scented fire this holiday season," she said.
The logs are being sold at Walmart.com for $18.99. And according to the chain's website they're "significantly more effective at making your home smell like fried chicken than burning actual fried chicken."
Sadly, biscuits and coleslaw are not included.
Source: KFC selling fried chicken fire logs this holiday season | 1010 WINS