KFC is about the launch the most Australian merchandise collection ever … and it's for a good cause too.
Following years of KFC producing a variety of goodies for countries around the world, it's finally Australia's turn to receive their own swag of speciality merchandise. Who doesn't wanna rock KFC branded budgie smugglers.
The collection will be made up of eight items uniquely Australian and unmistakably KFC, and will include some Colonel inspired budgie smugglers, a KFC surfboard, and-in a global first-KFC scented Surf Wax.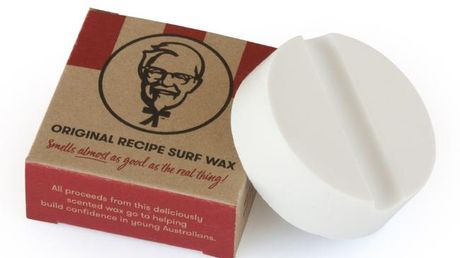 According to KFC, the surf wax is an inspired blend, delivering rich aromas of KFC, including tones of their Original Recipe chicken and paired with hints of their famous chips.
The scent used in the wax is the scent that was used in their famous sunscreen that went crazy in the US.
100 per cent of profits from the sale of these exclusively Aussie items will go towards the recently launched KFC Youth Foundation.
The KFC Youth Foundation mentors underprivileged youngsters across the country, raising money to assist in skill development and mental wellbeing.
Sales are limited so get in quick and support a good cause.