True to her calling card as one chosen to liberate the oppressed, singer/actor/activist Janelle Monae is back at it again (as if she ever stopped). Her aim? To empower women and those who identify as such via art, music, mentorship, and education. In partnership with Belvedere Vodka, Monae hosted 'A Beautiful Future' dinner—a sensory bouquet immersing guests in music, art, dance, and tech at Chicago's Museum of Contemporary Art on the eve of her Lollapalooza performance.
"This collaboration is a convergence of our shared beliefs: optimism and the power of 'the we, not me' to bridge divides," said Rodney Williams, president of Belvedere Vodka. It was the next level up from the Hidden Figures starlet's Fem the Future grassroots organization and similarly-named series of brunches previously hosted in Berlin, London, and New York.
"I think it's important whenever you work with brands that they understand your vision," says Monae, who in addition to playing an abolitionist master teacher in Harriet Tubman's life story, was also recently announced to replace Julia Roberts as the headlining character in the psychological thriller, Homecoming. "When Belvedere heard that I wanted to highlight voices and put more opportunities in the hands of women they said, 'How can we help?'"
Aside from debuting a metallic collage-designed, limited edition bottle of Belvedere's super-premium vodka—inspired by Monae—the event zeroed in on art, food, and the celebration of four individuals from Chicago whose work aligns with the theme of diversity, inclusion, self-expression, and "access to explore one's passions freely," explained Monae.
The honorees included sexual assault activist Scheherazade Tillet, co-founder and executive director of A Long Walk Home, a nonprofit that uses art and film to raise awareness and end violence against girls and women; Nikki Roberson, fundraising director and community outreach liaison for Kicks 4 the City; LaForce Baker, founder and CEO of Moon Meals; and celebrated visual artist and architect, Amanda Williams.
"She believes in positivity and elevating other's voices and these are ideas that as a brand we can champion and get behind," said Carlos Zepeda, VP of Belvedere Vodka US.
Baker, the founder of Moon Meals, is one of those voices. Currently, his product is sold in 188 grocers across Illinois, Indiana, and Iowa and he projects it will be available in over 1,000 stores, including Whole Foods, CVS, and Walgreens by the end of 2020.
Moon Meals, he says, builds upon Monae and Belvedere's Beautiful Future motif in three ways: by increasing access to quality meals on the South and West sides of Chicago, where food deserts are prevalent; by generating revenue for economically depressed neighborhoods; and by hiring and servicing women of color. "Our products empower our customers, which are predominately women, by giving them the nutrition they love, on the go, and without much sacrifice."
The dinner was served at a stunning 90-foot-long table, attended by 80-plus cultural tastemakers, social justice influencers, and key Chicago business stakeholders with rousing music from DJ Rae Chardonnay. It featured five courses by Jason Hammel, chef of Marisol, a restaurant at the Museum of Contemporary Art in Chicago.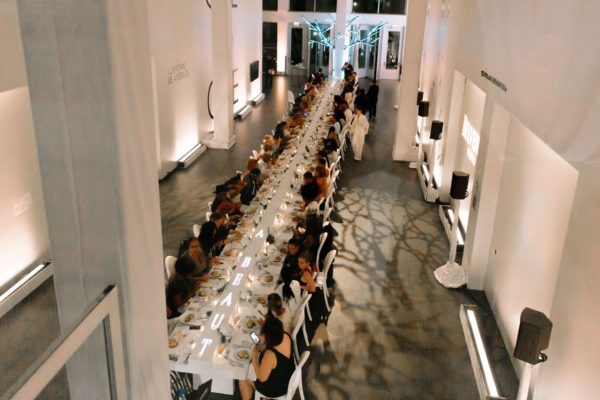 Technology also took a center seat at the table. Running down the center for the full length of the table was an LED display monitor pumping messages of encouragement and inspiration. The first course of the five-course dinner included a plate with brightly lit headphones playing a special message from Monae's alter ago, Cindy Mayweather, an android from the year 2719.
"Tech is a powerful tool. But I want to make sure that the bias is not there. That's been a big concern of mine," says Monae, who stresses that as technologies like artificial intelligence or voice and facial recognition are developed further, Silicon Valley should bring women and diverse voices to the table on the front end.
"Because when we're not in the room and there is only one type of person in the room making these decisions, I think that it won't be a beautiful future."
Source: Janelle Monae Marries Art, Food, and Tech to Imagine 'A Beautiful Future' – Black Enterprise