Immersive experiences have seen an extraordinary period of growth over the last decade, as audiences increasingly choose experiences over products.
Prior to COVID-19, the experiential entertainment business was booming. While many attractions in this sector have been temporarily put on pause, the trend for immersive experiences is a strong one and is likely to make a good recovery, albeit with some slight changes, as we adjust to the 'new normal'.
Modern visitors are more likely to spend their hard-earned money on experiences rather than products. For instance, they want to enjoy memorable days out, visits and experiences that they can share with friends, filling their social media accounts with fun images and videos.
Immersive experiences, such as Jeff Wayne's The War Of The Worlds: The Immersive Experience or Judge Dredd Uprising: The LIVE Experience, perfectly fill the wants and expectations of this millennial and gen Z audience.
The appeal of immersive experiences
Joe Pine, the co-author of The Experience Economy, talked about the trend at last year's BlooloopLIVE event in London, speaking about the fact that attractions are competing with each other to capture their audience's time, attention and money. As Pine says, the most valuable of these is time. In a modern society where time is a precious resource, a truly good experience is time well-spent.
"Consumers want to spend their hard-earned time, and money, on the experiences that they value," says Pine.
The fact that immersive experiences create memories, that they can be enjoyed together and shared, is a big part of their appeal. Plus, they offer a chance to become, at least temporarily, part of a different world. To be transported away from everyday life. This can mean becoming immersed in famous artworks, in a captivating adventure, or in the world of a favourite IP.
The world is beginning to adjust to the impact of the COVID-19 pandemic. As a result, this escapism could prove more popular than ever.
War of the Worlds: The Immersive Experience
One recent attraction that has been wowing audiences is Jeff Wayne's The War Of The Worlds: The Immersive Experience.
This award-winning attraction features 'layered reality' as well as music from the classic musical. It is far from passive, as guests must walk, crawl and slide in order to escape the Martian invasion. They are immersed in this strange new world through a range of techniques, from high to low tech.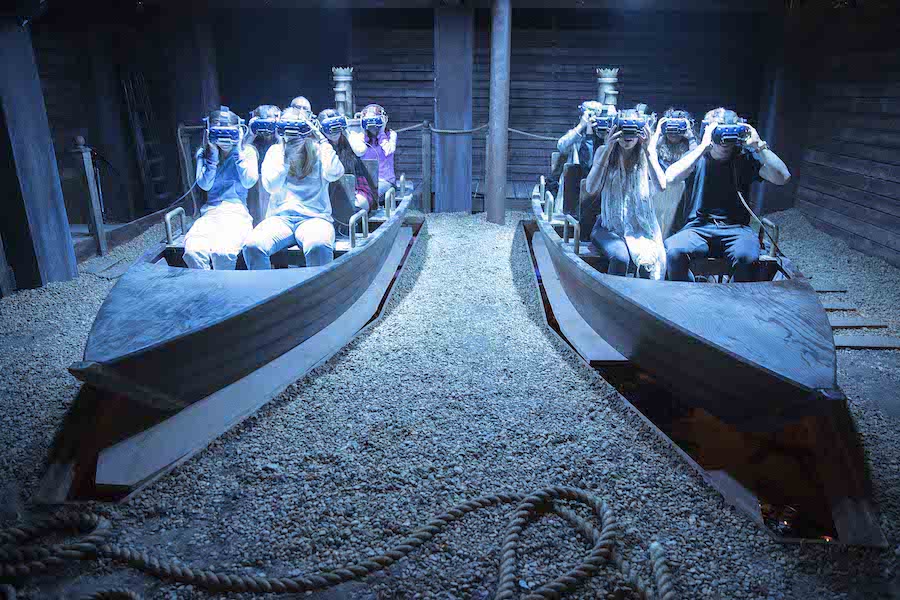 From the minute they enter the experience, a new world is created and brought to life, with sets that guests can walk around, encounter live actors and even witness pyrotechnics. This atmosphere is further enhanced by cutting-edge virtual reality (VR) and augmented reality (AR) technologies, as well as holograms.
Every sense is stimulated in order to make the experience fully immersive. There are changes in temperature and sets they can touch and feel.
Becoming part of the story
The 22,000 square foot venue includes iconic locations from The War of the Worlds. For example, the Observatory, Horsell Common, Georges House and more. Guests even take part in a boat ride. Then, during the interval, the spell is not broken as they find themselves in the Red Weed themed bar. Here, an exclusive 20-minute version of 'The Red Weed' is shown, created by Jeff Wayne himself.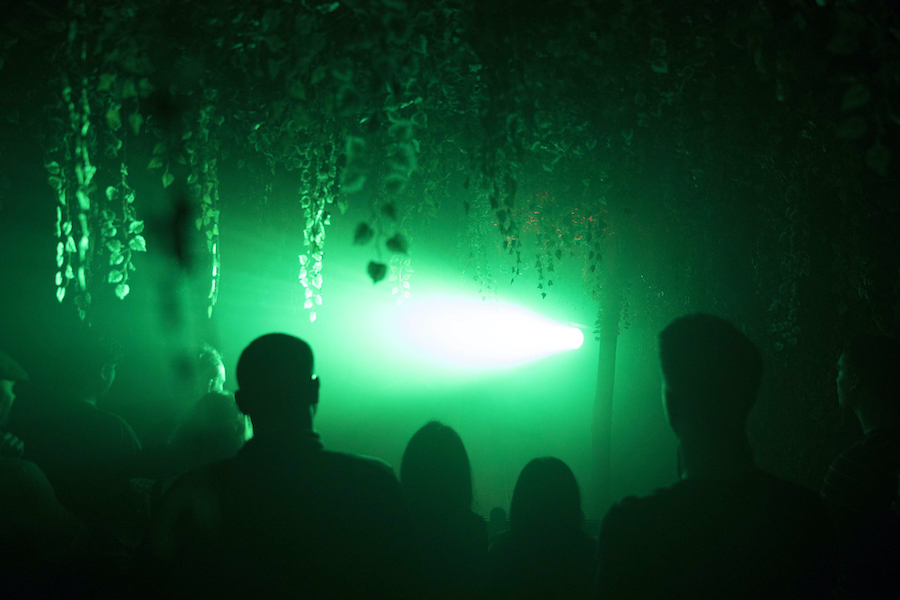 After this, the story continues as guests must fight to survive the Martian invasion. Finally, the experience ends in the steampunk-themed bar and restaurant named 'The Spirit of Man'.
Layered reality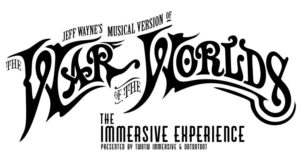 Andrew McGuinness is CEO of Ellipsis Entertainment, the company which produced Jeff Wayne's The War of the Worlds: The Immersive Experience. Earlier this year, he spoke to blooloop about the experience and its unique 'layered reality' approach.
"You're climbing through windows and sliding down slides," he said. "And then, as a third element of the layered reality, it has sensory elements. For example, taste, temperature, touch, movement, smell. It's the layering of those elements on top of one another that immerses you in another world. All those combined elements tell your brain you've been transported."
On the experience's success, he said:
"People seem to love the fact that The War of the Worlds experience is a very different sort of storytelling. It is something that genuinely allows them to escape from the world for two hours.
"You switch off your phone and all your daily pressures. So, you're fully immersed, with the help of the digital tools that we use in the story. It's something that's still wonderfully alluring for people. We want to be able to step away from our everyday world."
Atelier des Lumieres
For a less adventurous but no less immersive experience, audiences have also been enjoying Atelier des Lumières in Paris, France. Here, famous artworks are brought to life, jumping from the canvas to the digital world.
Atelier des Lumières (Studio of Lights) is in a former foundry in the 11th arrondissement of Paris. It opened to the public in April 2018 and has since welcomed over 2.5 million visitors.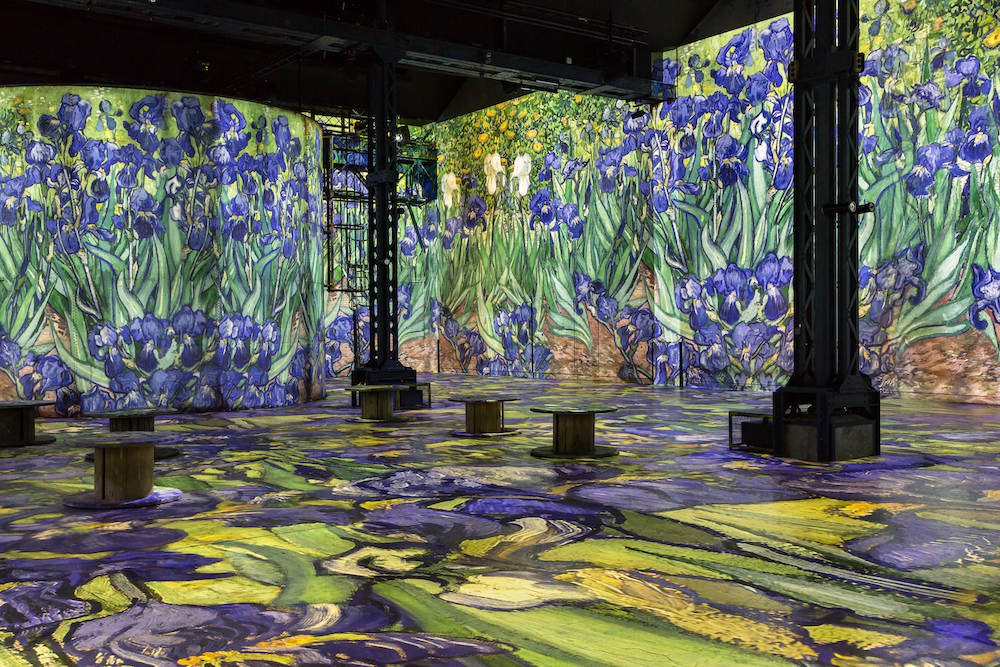 In addition to this, creator Culturespaces has now opened a second venue in Bordeaux, France. Bassins de Lumières opened in June 2020 and set in a former WWII submarine base. It has already welcomed more than 300,000 visitors. These guests have witnessed an immersive exhibition of the works of Gustav Klimt and Paul Klee.
Bringing art to life
This immersive art venue projects work from much-loved artists such as Leonardo da Vinci, Egon Schiele and Gustav Klimt. These are projected in such a way as to surround visitors and are accompanied by a soundtrack, which is specially designed to make the experience more reflective and immersive.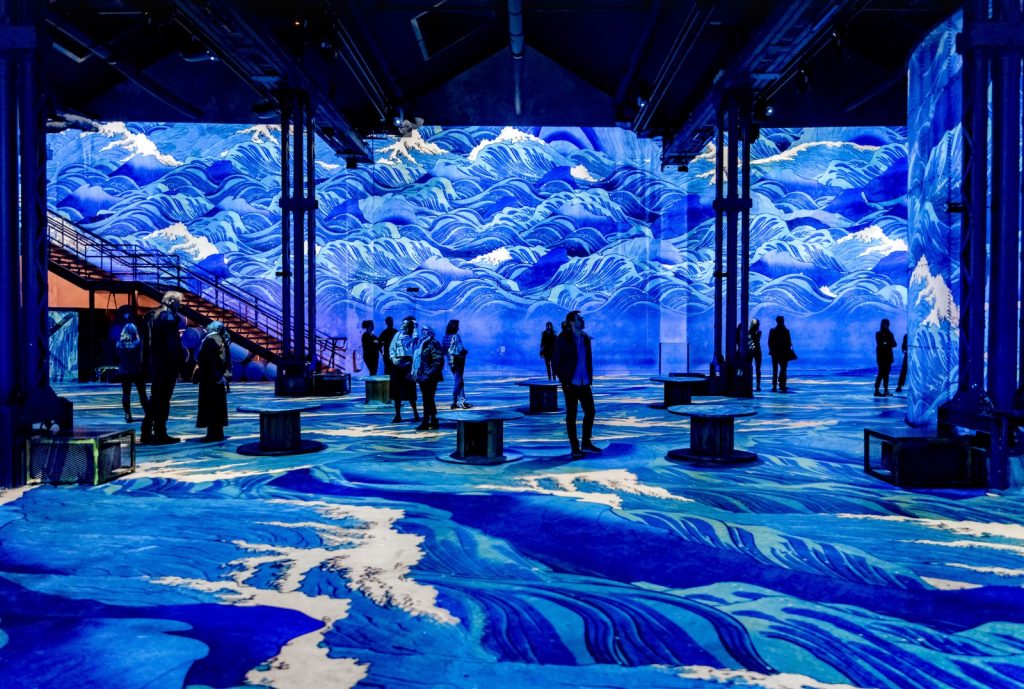 At Atelier des Lumières, this digital artwork wraps around all four walls of the 3,300 square-metre space. It is also projected onto the floor and the structures within the room.
To create the exhibitions, Culturespaces worked with Cadmos, which commissioned a projection solution from Barco. 144 Barco projectors are used in the Paris venue, together with 50 speakers. Meanwhile, in Bordeaux, 72 Barco projectors work together to cover a space of 14,000 square metres.
Culturespaces
Atelier des Lumières and Bassines de Lumières are the brainchild of French artainment venture Culturespaces, founded by Bruno Monnier.
According to Augustin de Cointet de Fillain, Culturespaces' Director of Art, Music and Immersive Experience, people tend to take their time when visiting the immersive art space. Some sit, some walk around, or even lie on the floor to take it all in. "Some, they are dreaming," says de Cointet de Fillain.
Speaking to blooloop last year, he described the Atelier des Lumières as a sensory experience, rather than intellectual. He believes this is part of its success. "Afterwards, if people want to continue the experience, they can have an intellectual experience," he says.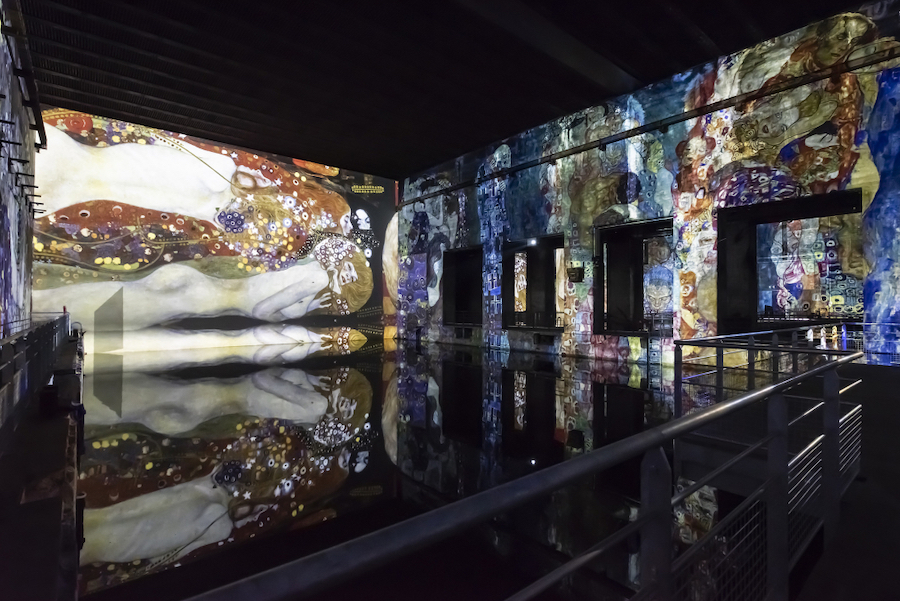 "The art world is still very confined and only a small part of the world population is interested in visiting museums," says Monnier:
"Our mission is to make art more accessible to a wider and younger public. With the creation of our unique inclusive digital experiences, based on video, music and interactivity, we want to invite visitors of all backgrounds for a fascinating immersive journey into the artistic universe."
Zero Latency
Zero Latency created the world's first location-based free roam VR experience. And now, the company's fun, immersive experiences are now available in 45 venues, over 22 countries worldwide. The appeal of this type of entertainment is certainly global.
For a truly immersive experience, guests at one of Zero Latency's free-roam VR experiences simply don their VR headset, strap into a backpack containing an ultra-performance computer, and pick up the controller. Together with their group of friends, players are then instantly taken to a new virtual world. Within this world, they are able to move around and explore freely.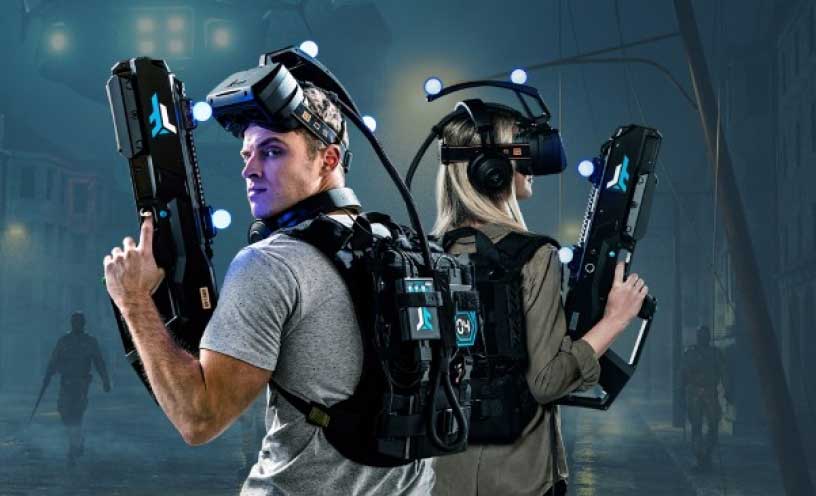 There are no wires or walls to get in the way. Therefore, players have true freedom to immersive themselves in their VR adventure.
There are now a variety of games available on the platform. For example, titles like Far Cry VR, Undead Arena, Singularity and Engineerium.
Bringing VR experiences to the mainstream
"We want our experiences to blow you away no matter which Zero Latency VR venue you're at," said CEO Tim Ruse on the released of the Zero Latency free-roam VR platform, which was developed in collaboration with HP, Microsoft and Intel.
"Our focus is on bringing the Zero Latency VR experience to more people, taking virtual reality entertainment into the mainstream. With our new platform, it's never been easier to start a successful VR entertainment venue."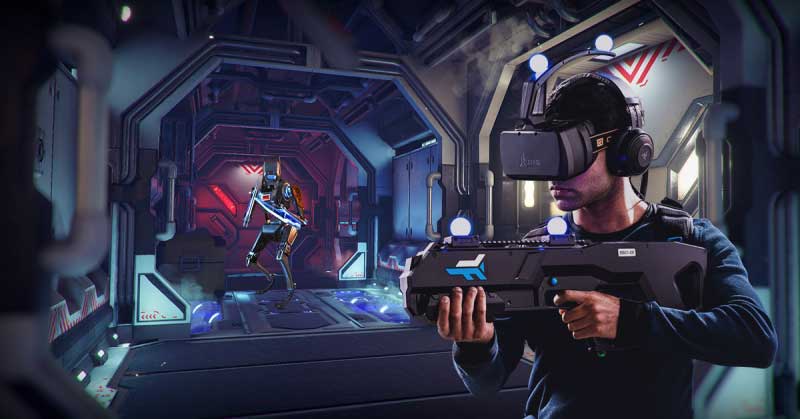 Zero Latency worked to improve all aspects of the VR experience. This means that the platform is a far cry from the early days of VR motion sickness and clunky gear.  The platform boasts clear and smooth visuals, supported by comfortable gear and engaging content.
Social immersive experiences
Phil Martin, VP of Business Development at Zero Latency, took part in an education session at InfoComm last year, organised by blooloop in partnership with AVIXA. During this session, he talked about the importance of adapting to the fast-growing immersive experience sector in order to meet the demands of future audiences, saying that the key is "Disrupting from the ground up…Adapt or die."
For Phillips, the key to the success of free-roam VR immersive experiences, like those created by Zero Latency, is that they are both accessible and social:
"People love it because it's social…It's not about hardcore gaming, you need accessibility."
Other examples
Immersive experiences really are everywhere these days. And there is something on offer for all types of audiences, from art lovers to thrill-seekers.
Another recent example Electric Playbox, a new venture in London and Manchester. Here, immersive technology is used to bring people together for a shared experience. Players work together to solve a series of puzzles and challenges as a team.
Guests check-in and then find themselves in one of a series of identical rooms, with projection on all four walls. Players wear a coloured visor which communicates to the computer exactly where they are in the room. An immersive atmosphere is created by the use of touch on all four walls. There is also surround sound and motion tracking.
Further examples include Judge Dredd Uprising: The LIVE experience, which is coming soon to London. This multi-level team attraction will teleport urban adventurers into a post-nuclear Piccadilly, in the year 2143. It is based on the popular British sci-fi comic book character, Judge Dredd.
Judge Dredd Uprising: The LIVE Experience is the latest project from Little Lion Entertainment, working in partnership with 2000AD publisher Rebellion.
Little Lion Entertainment founder and CEO, Tom Lionetti-Maguire spoke to blooloop about the 2,785 square-metre indoor experience, earlier this year, describing it as: "Part comic book, part sci-fi film, part immersive theatre, part escape room, part action-adventure and part indoor theme park."
The future of immersive experiences in a post-pandemic world
At first glance, it might seem that immersive experiences such as these aren't particularly suitable for our post-pandemic, socially distanced reality. But operators all over the world are already stepping up to the challenge in order to bring the fun to audiences, at a time when they perhaps need it most.
For instance, both Atelier des Lumières and Bassines de Lumières are open to the public, with extra health and safety procedures in place. And we have seen some interesting innovations across the industry, with drive-in experiences such as Gogh by Car, the world's first immersive drive-in art experience in Toronto.
Clem Garritty, Co-Founder of Swamp Motel, a creative agency and production house in the immersive sector hosted a webinar earlier this year, looking at the future of immersive experiences after COVID-19.
During this session, the expert panel felt that, despite the obvious challenges, immersive experiences will evolve and adapt. And that ultimately, they will find ways to survive in the new normal after COVID-19.
"The ingenuity on how to recover from this will be really interesting. Watching the National Theatre Live stream is a great example, there is a reason it exists and people love it. It will survive but change," said Brian Hook, Creative Director, The Great Gatsby Immersive Experience, during the session.
"I've spent the last 14 years working in crisis management (theatre)," he added. "There aren't better suited or more prepared people for this crisis."
Immersive experiences at LeisurUp
Blooloop's Charles Read will be moderating a session on immersive experiences at the LeisurUp conference at 9 am CET on Monday 9 November 2020.
Background image courtesy of Jeff Wayne's The War of the Worlds: The Immersive Experience
Source: Immersive experiences | layered reality, artainment & more | blooloop