It is a revised version of the original French show, called Camille: un rendez-vous au-delà du visuel, and it will be presented at the Segal Centre from June 21-July 3. It promises to deliver an incredible sensory experience that is accessible to all audience members, whether they are blind, partially sighted, or sighted.
Show creator Audrey-Anne Bouchard drew on personal experience when she designed this unique show.
"I had studied theatre design and started having a visual disability around the age of 17 or 18 where my vision was degenerating slowly," she explained. "At first, I just thought I needed glasses, but after a few years of tests I was diagnosed with a genetic condition called Stargardt disease where your vision continues to deteriorate. I was then studying visual arts as well as working on a master's degree in video projection in theatre and dance, and it struck me how visual it is what I do. I didn't realize how it was all about the image.
"The relationship between the audience and performances is very rooted in the visual, and I wondered what a person who is blind can perceive from theatre or dance, and what their experience was. I asked for a research grant to determine how can we create and communicate dance and theatre beyond the visual relationship between audience and spectator, and I began exploring this with the team of artists who are in the show. And that's how the show was born."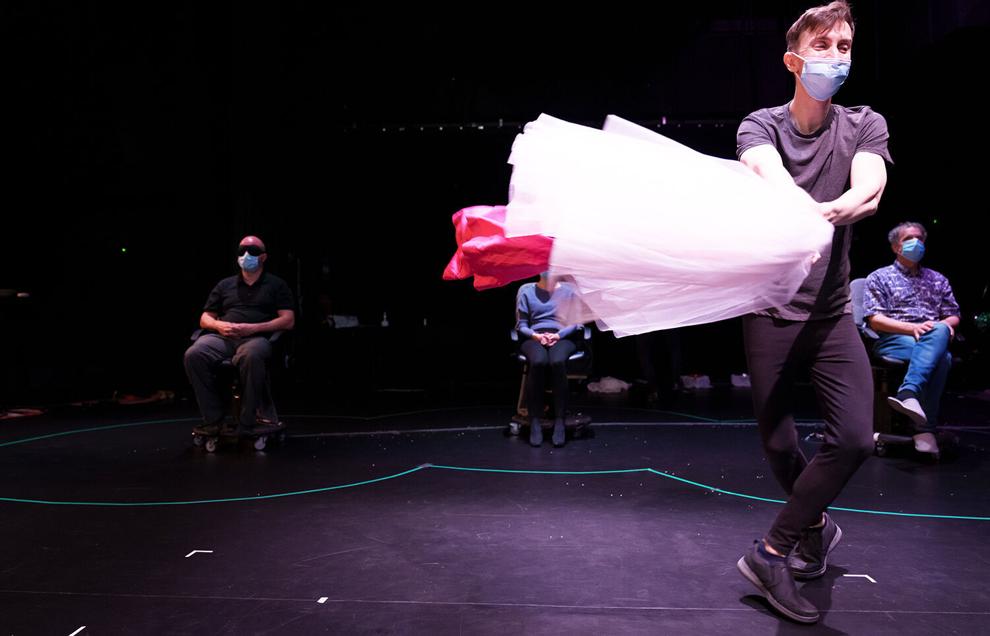 The show was first presented in French in 2019 and received rave reviews as well as sold out. However, COVID moved in and their plans for a tour were halted for over a year. Because it had a lot of touching and close interactions between the audience and performers, they decided to create a second version of the show that had much less physical contact. "The audience is still sitting in the middle of the action, and we perform around them, but we developed tools to be able to stay somewhat distanced, like using scarves," Bouchard said.
They also have custom-made chairs for the audience members to sit in that vibrate and can move around, adding to the multi-sensory experience. "We began to explore other senses more too, like the sense of smell. That way, people can concentrate on the story and won't be over-stimulated with just touch."
There will be 24 performances of Camille: The Story at the Segal Centre and only six audience members per show. Tickets can be purchased at segalcentre.org
Source: Camille: The Story, an interactive, multi-sensory experience at the Segal | Arts | thesuburban.com