A focus on scent, apparent in a global rise in scented art exhibits, is resonating strongly with young consumers amidst the onslaught of digital advertising they receive on a daily basis. Lately, brands are using olfactory stimulation to stir a sense of nostalgia in young consumers via whimsical scratch-and-sniff experiential marketing tied to food and beverages.
COCOMERO
It's fitting that the word "cocomero" means "watermelon" in Italian when all of the brand Cocomero's Italian-style vintage rosés contain notes of watermelon, amongst other fruits. To play up the focus on this particular fruit Cocomero recently put out a 2017 vintage with a scratch-and-sniff label printed with watermelons that, when scratched, actually smells like watermelons. Cocomero's olfactory-stimulating strategy is an effective one to call attention to this particular rosé in a tight market where pink alcohol is having a moment.
CAPTAIN MORGAN
Another alcohol brand playing up the scent of watermelon in its summer beverage is Captain Morgan: the brand's new Watermelon Smash rum blends the tropical flavor of rum with watermelon. The bottle, which mimics the look of an actual watermelon with its spherical design and photorealistic print of a rind on its label, also boasts a scratch-and-sniff label that produces a watermelon smell. Captain Morgan's aromatic strategy recalls that of other scented advertisements that have cropped up recently, including the strawberry-scented posters Beefeater London placed in London's tube stations to call out the strawberry flavor of its new pink London Dry Gin.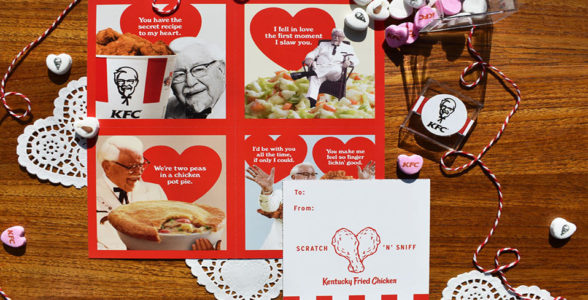 KFC
To market its Chicken Share meal, which is, as the name suggests, meant for two, fast-food fried chicken purveyor KFC gave away fried chicken-scented scratch-and-sniff cards with the purchase of a Chicken Share meal on Valentine's Day. The cards, which are retro in design and contain cheeky chicken- and fast food-themed puns, are an exercise in emphasizing the hilarious versatility of the brand's iconic fried chicken-themed marketing, as well as a way to tap into the reinvention of greeting cards amidst the celebration culture embraced by Millennials.
Source: WHIFF IT GOOD