Almond and Piggy Pink are two evocative Crayola crayon colors that Emilie L. Gossiaux uses in her drawings. The New Orleans–born, New York–based artist has relied on the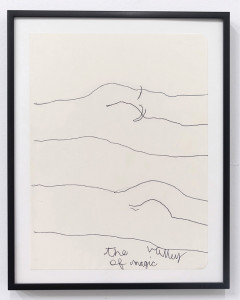 Emilie L. Gossiaux: The Valley of Magic, 2018, ink on newsprint, 11½ by 9 1/8 inches.
memories and sensory experiences these descriptors call to mind ever since she became blind—the result of being hit by an 18-wheeler while riding her bike. At the time of the accident, Gossiaux was studying art at Cooper Union; last year, she earned her MFA from Yale. At many art schools, blind contour drawing is a classic assignment: students are prompted to look only at the subject in front of them, not at their drawing. Gossiaux adapts this method, using ballpoint pen on newsprint to draw indented outlines that she later fills in with wax crayons, working from memory or observing her subjects by touch.
In addition to making tactile drawings, Gossiaux often uses clay, papier-mâché, and paint on recycled fabric to depict intimate scenes. Her first solo exhibition, "After Image," at the gallery False Flag in New York last year, addressed emotional bonds and erotic desire with a sweet sort of silliness. "The Valley of Magic" is scribbled on one drawing, which shows the butts of two people lying next to each other. Her painting on found fabric Looking Through the Leaves at Two People Making Out (2018)—featuring a naked, necking couple partially concealed by shrubbery—satirizes a widespread ocular fetish for seeing the forbidden.
Gossiaux's female guide dog, a yellow Labrador Retriever named London, regularly figures in her work. Dancing with London (2018), recently shown at Julius Caesar gallery in Chicago in a group exhibition about mutual care between animals and humans, comprises two larger-than-life sculptures of her canine companion. The dog stands on her hind legs, front paws extended as if inviting visitors to dance with her—one way that London expresses affection. The process of making the work was much like petting a pooch: Gossiaux rubbed paper clay and other materials over polystyrene body forms mounted on aluminum armatures.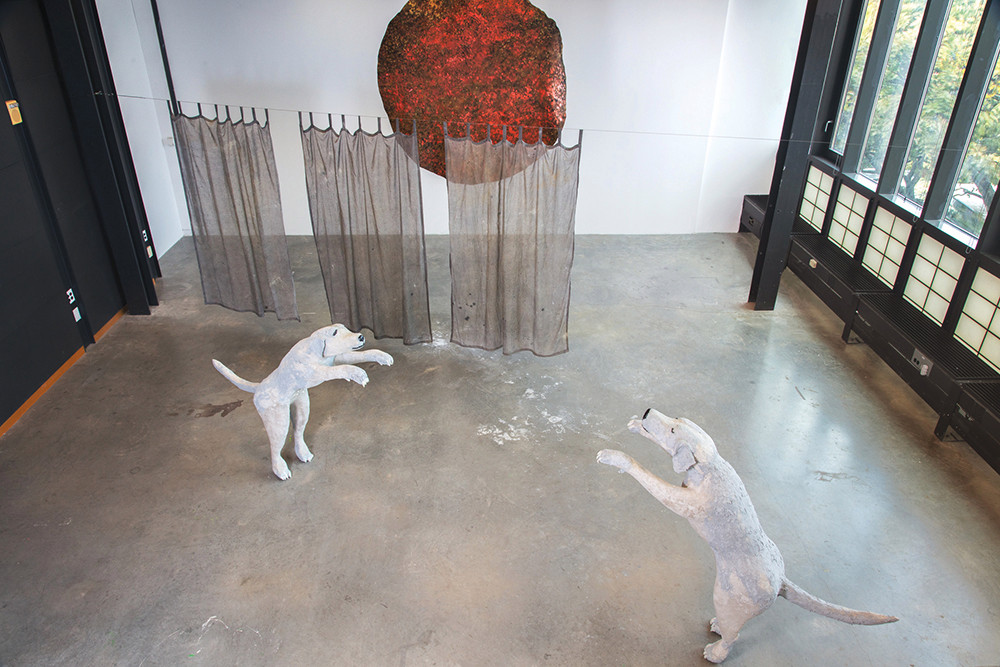 Gossiaux also works as an educator at the Metropolitan Museum of Art, where she leads tours of the permanent collection and co-teaches a drawing class for blind and low-vision visitors. Next fall, she'll be an artist-in-residence with a development company at 3 World Trade Center. This month, for In Practice—an annual open-call exhibition at SculptureCenter—Gossiaux will show works depicting her loved ones' tattoos. To create the pieces, she began by sculpting clay body parts of her dad, her sister, and herself, then carved in their tattoos as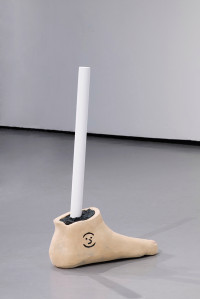 Emilie L. Gossiaux: Outer Space: My Dad's Old Tattoo, Smiley Foot, 2019, mixed mediums, 9 by 4 by 16 inches.
she remembers them: her father's forearm is shown bearing E.L.G., his initials as well as those of both his daughters; a chili pepper adorns her sister's right breast; and the outline of a Paul Klee cat appears on the artist's shoulder. The hollow forms were then filled with black expanding foam that soon seeped out of the sculptural incisions, suggesting that tattoos and other forms of self-expression are like your insides coming out for others to see. Gossiaux's experience of making the sculpture suits the theme of this year's In Practice, which is doubt. After starting them, she realized that some were not exactly true to life. For instance, she had rendered her dad's forearm crucifix upside down. So she began creating entirely fictional tattoos, like palm trees on a neck, reflecting how intimate memories are often more about the feelings they evoke than the accuracy of their details.
This article appears under the title "Emilie L. Gossiaux" in the January 2020 issue, p. 20.
Source: Blind Artist Emilie L. Gossiaux's Tactile Tattoos at SculptureCenter – ARTnews.com