(Credit: Lakivia Sharkey)
Treble And Flame Co. combines the hobbies and interests of a loving couple matching lush scents with curated playlists, igniting a double sensory experience.
"We met at the University of South Florida. We both went to school there. We were college sweethearts and then ended up getting married and creating a life and this business together," Damarces Sharkey, the co-owner of Treble and Flame Co., tells theGrio.
"So that's really a big piece of who we are as an identity. It's a husband and wife team that started a business."
Sharkey, 31, and wife Lakivia, 32, launched the candle company after she realized the scented wax she loved burning may have toxic effects. With a young daughter, the couple decided to initiate their own brand that would not only burn safely for the child's health and wellness but create income to satisfy their financial desires.
"We are a family that wants to build wealth for our family, and we understand that a great way to do that, [is to] create something that we can pass on to our daughter," Sharkey says.
"With that in mind, we had really been kind of racking our brains to determine what kind of business we could create that was true to who we are, that would embody what we believe, which is create wealth for our family and to build our community."
Sharkey further explains just how much their daughter's birth changed their lives.
"Once we had our daughter, she kind of started to change her life. She became a vegetarian and just more mindful about the items that she consumed in an effort to protect our daughter," he says.
"Some of the candles that she had from bigger name companies were paraffin candles. Paraffin comes from crude oil, so it's not the healthiest."
His wife researched ways their new business could benefit the environment.
"She looked into different kinds of waxes and found soy wax which is said to be more environmentally friendly because it's from a renewable resource. So she's like, you know what, I want to make my own candles," he continues.
"So from there, she was kind of thinking about it and she's like, 'Well you know what, every time we light a candle, we listen to music. It's a candle and music so she's like, Well, why not do that.'"
Described as an "ultimate journey of creativity, passion, and true love" on their official Etsy Shop, the Florida based company focuses on Black culture in sound.
"Our music is representative of Black culture, and that's a wide variety of music. So you may have an alternative R&B playlist. You may have a contemporary R&B. You might have neo-soul, you might have rap. We ventured out to do an Afrobeats playlist, and we're looking at doing an Afro-house playlist," he shares.
"So there are not really any limits, the true limit is making sure we stay true to who we are. We're doing a soul Christmas like we're not we're not jingle bell rocking it, we're going to do The Temptations. We're going to have a variety of music that really celebrates our culture."
His curated sounds are not randomly paired with her candles. The couple has a collaborative creative process that ensures a continuous flow of ideas resulting in unique themes.
"I'll start with the playlist first and then we'll get into the word of the candle making portion of it. Typically, we'll just be playing music, she'll start to go into her creative process, gathering a bunch of scents and putting them together to see what she really likes," he describes.
"If she hears a song that she likes she'll say, 'oh yeah you know like this.' When she tells me that she likes the song, I'll start finding songs that are similar and play it. If she says that she likes it I'll just add it to a playlist, just build as she's going."
Sharkey explains how the Sweet Life candle, which is a peach nectar Mandarin vanilla scent, was inspired after listening to R&B singer Chris Brown.
"She liked it and we started playing it and then we ended up making our way through a bunch of different artists and at the end of it, she came up with this candle," he says.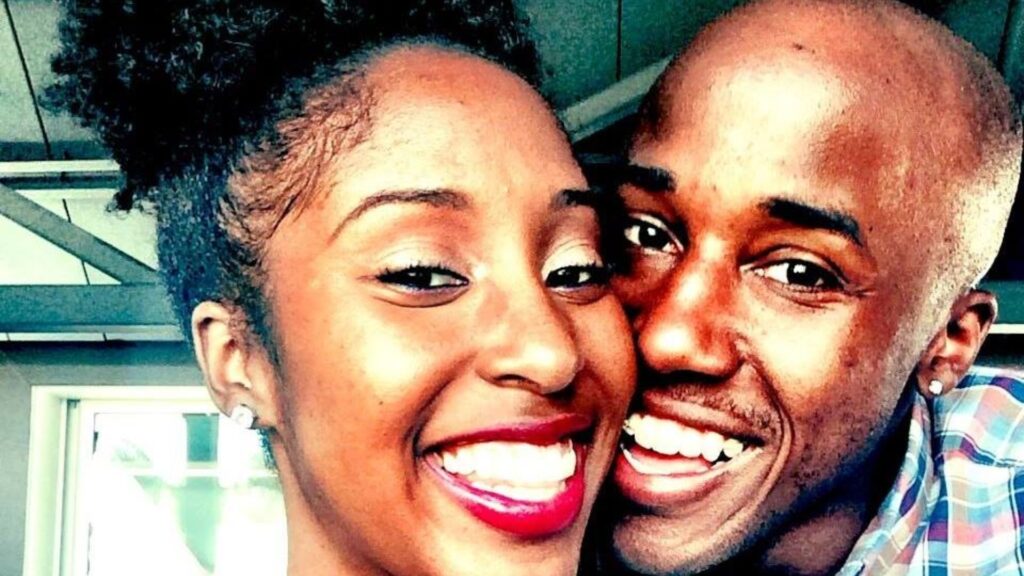 As interest in Black-owned business grows, Treble And Flame Co. works to keep up with customers and prepare new products for the remainder of the year and beyond.
"We have some pretty big things coming up, For the end of the year. We have a fall line that's going to be coming out around September plus a holiday around the end of November," Sharkey says.
The spring line will be out between January and February. They are looking to work with other Black-owned businesses and get into their subscription boxes.
"We'd like to make our way into boutiques, we'd like to find our way into some brick and mortar locations. It's been a little bit limited because of the pandemic, but that's still very much on our horizon We launched in March, and from March to today (July) we've amassed 606 hundred plus sales purely from online," Sharkey says.
He states how the pandemic has shown just how important the business is to them and the communities they serve.
"It shows us that we have to be responsible for the change that we want to see. We have people that are on social media, writing, and protesting and speaking loudly about our issues," he declares.
"We have people that are in the street, marching and doing those things. We also have to have businesses that are ready to support our people, when they want to go somewhere when they want to make a change, we have to be there. As a business not only do we have to be there, but we have to be ready to employ some of our people and also employ others to help support."
Currently, Treble And Flame Co. candles are only available on the brand's Etsy shop found here.
Source: Black-owned candle company curates sound with scent – TheGrio : TheGrio