An immersive experience will bring dinosaurs to life using the latest mixed-reality technology.
A partnership between seven organisations is hoping to create groundbreaking interactive exhibitions at the Natural History Museum and the Science Museum.
It is being mostly paid for by a grant from UK Research and Innovation (UKRI), a funding body which invests in innovative researchers and organisations.
Visitors will be able to experience multi-sensory worlds, play detective roles and meet a cast of digital characters, including androids, artificial intelligences, velociraptors and fossils.
Natural History Museum visitors will be able to learn how palaeontologists work and see dinosaurs from the collection are virtually animated. Next door at the Science Museum, visitors will encounter a mixed-reality detective experience featuring high-resolution 3D scans of robots and other objects from its collection.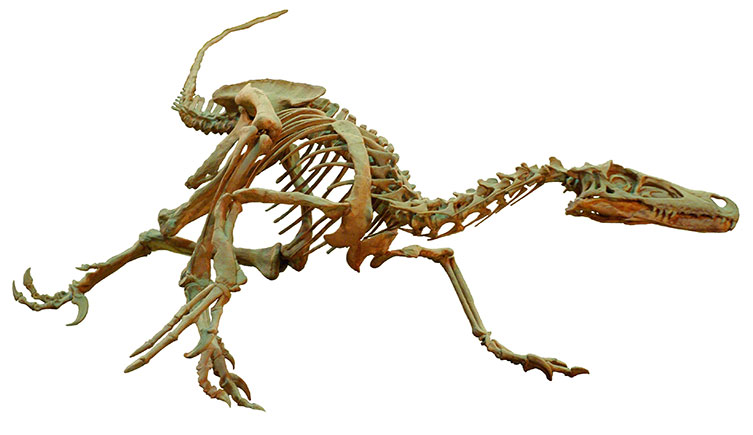 It is expected that the exhibits will open to the public in the middle of 2020.
The project is being led by creative content studio Factory 42, creators of the multi-award winning virtual reality experience Hold the World with Sir David Attenborough at the Museum.
The Museum's Director of Engagement, Clare Matterson, says, 'It's incredibly exciting to be collaborating with partners at the vanguard of new tech, culture, entertainment and academia to deliver what promises to be a breath-taking new experience for our visitors.
'Mixed-reality technology offers boundless potential for innovation for bringing our dynamic collection and the work of our scientists to life like never before.'
A cultural experience for the future
The two-year project is being funded by a £4 million grant from Innovate UK, part of UKRI, as part of a wider initiative called Audiences of the Future.
It will be under the co-creative direction of The Almeida Theatre and Factory 42.
Factory 42 and the museums are also backing the project with their own funding, and further investment has been made by UK entertainment group Sky plc and Magic Leap, a US spatial computing company.
Digital education company Pearson and shopping centre group intu plc are providing strategic support. Sampler versions of the experiences will also be made available to visitors to intu shopping centres.
The project aims to better understand how cultural experiences can be changed for future museum visitors, to help them to understand and enjoy the natural world and science, while at the same time providing commercial touring and export opportunities.
The project will be supported by a multi-disciplinary research team from the University of Exeter Business School and the Centre for Intermedia and Creative Technology.
The world-class creative team will include some of the UK's leading theatre directors, computer game designers and developers, 3D audio, multi-sensory technologists, animators, graphic designers, writers, actors, artists and researchers collaborating with museum curators and academics.
John Cassy, Factory 42 Chief Executive, says, 'For millions of visitors each year a visit to the Natural History Museum or Science Museum is not complete without an encounter with robots or dinosaurs.
'Thanks to the magic of technology and the minds of some brilliant technologists, creatives and scientists, audiences will soon be able to see, smell, hear and touch robots and dinosaurs as part of a group of family or friends.
'Factory 42 is thrilled to have assembled and now be leading this world-class consortium as we set out to break new ground and reimagine how a trip to a museum will entertain and inform visitors in the future.'
Source: Dinosaurs to come to life in a new interactive Museum experience | Natural History Museum