At The Ritz-Carlton in Singapore, the artwork comes alive
The hotel has created a self-guided, virtual reality experience that brings its stunning collection of art pieces to life
Art can move – emotionally. But over at The Ritz-Carlton, Millenia Singapore, the art pieces move, too. Visitors and guests can now interact, virtually, with seven of the hotel's renowned pieces as part of its newly launched augmented reality art tour.
The self-directed experience, believed to be the first in the world, is an interactive, immersive, and socially distant alternative for digital natives to explore works by Frank Stella, Dale Chihuly, and other renowned artists.
"Even if you are not an art enthusiast, our new augmented reality art tour now offers a fun and engaging way to interact with the art in the hotel on a completely different level," says director of sales and marketing, Mark Aldridge.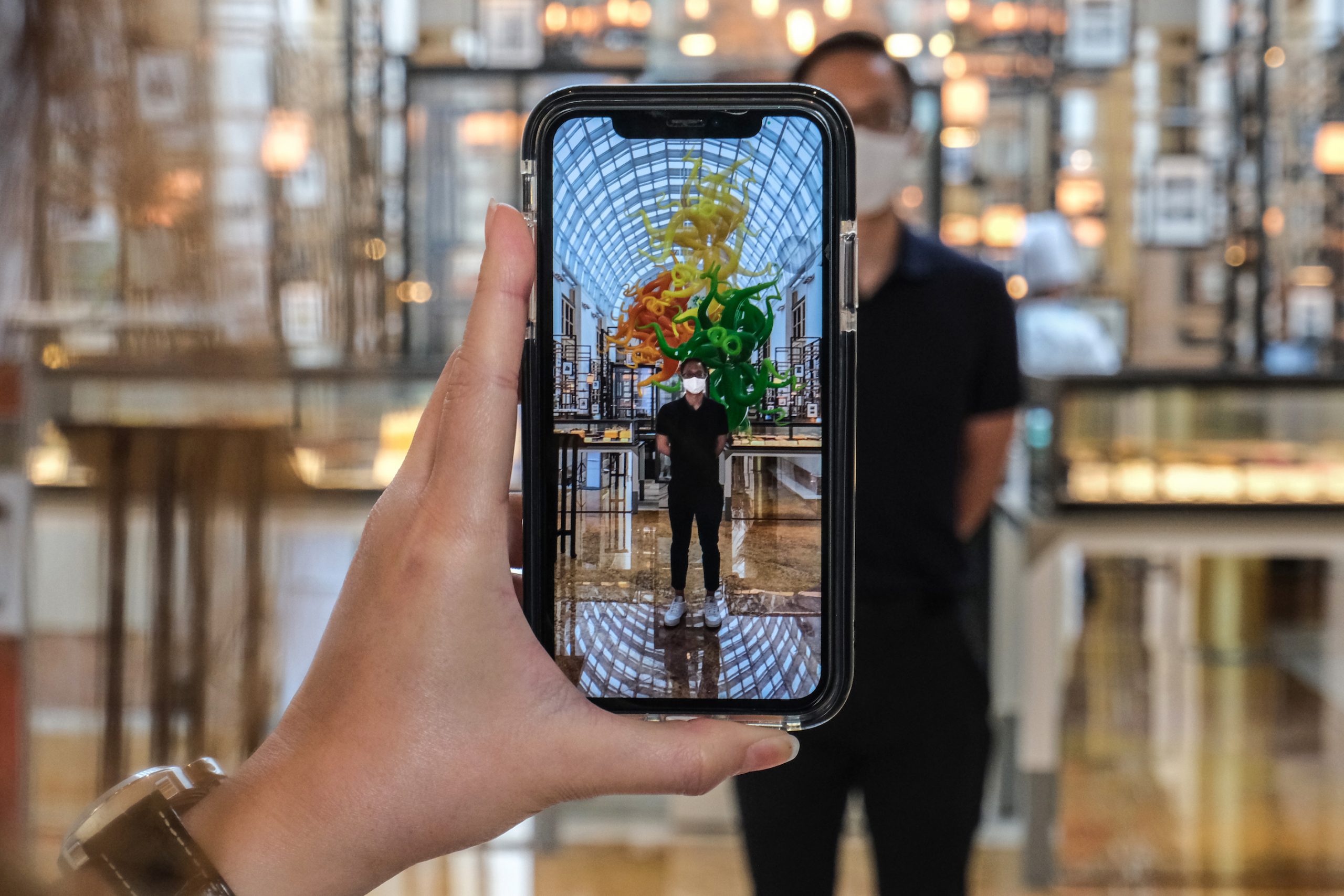 The multi-sensory tour begins with just a mobile phone; simply scan a QR code located near the reception with a mobile phone to kickstart this multi-sensory adventure. Read up on various artist profiles and their inspiration, immerse in soothing soundscapes, and even interact with moving computer graphics – all from the web browser of a mobile phone. A nifty bonus: photos and videos can also be easily captured and shared on social media.
Beyond providing content for the 'gram, the experiential art tour also provides a fun, family-friendly way to get acquainted with some of the 4,200 artworks that the hotel has.
Here is a peep at what to expect:
Cornucopia, Frank Stella
This towering chandelier, located in the lobby of the hotel, comes modelled after a sun visor. Colourful fluttering butterflies help accentuate its outdoor inspiration.
Chrysanthemums, Tay Bak Koi
The late local artist Tay Bak Koi created a soothing landscape, filled with vibrantly hued chrysanthemum flowers. Through the phone, enter a tranquil world filled with cascading petals matched with the sound of rustling leaves.
Sunset, Dale Chihuly
A green "Anemone Wall" that comes alive with its organic and free-forming shape.
Double Screw, John Rose
Flanking the lift lobby are two screw-like sculptures; their grooves provide a fitting visual reference to the motorised systems that run the lifts.
China China, Zhu Wei 
Strike a pose with these life-sized sculptures, or take a bow alongside these welcoming figures, reminiscent of terracotta figures in Mao suits.
The AR art experience is open to both the public and guests of the hotel. For those looking for an art-filled getaway, The Ritz-Carlton, Millenia Singapore also has an Overnight in the Museum package (from $530) that comes with a night's stay, access to the self-guided AR experience, tickets to the ArtScience Museum's Future World exhibit, and breakfast.
Source: At The Ritz-Carlton in Singapore, the artwork comes alive